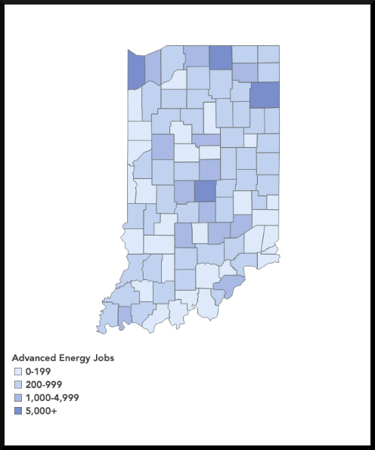 Advanced energy employs over 83,000 Hoosiers. Our Indiana State Employment Fact Sheet demonstrates that the advanced energy industry was a major employer at the end of 2020, with employers projecting 6 percent job growth in 2021.
The Indiana advanced energy state employment fact sheet:
Reports overall advanced energy employment at the end of 2020, by industry segment;

Compares advanced energy employment to other well-known industries;

Lists the top five counties in Indiana for advanced energy employment; and

Provides a county-level map of advanced energy jobs across the state.
Data for the fact sheet is derived from the U.S. Department of Energy's 2021 Energy and Employment Report, collected and analyzed by BW Research Partnership, and the U.S. Bureau of Labor Statistics.
Please fill out the form to download the Fact Sheet.