The Power of Now: Keeping California
in the EV Driver's Seat
Live on Thursday, May 13, 2021 at 3 p.m. ET / Noon PT
California dominates the U.S. electric transportation (ET) industry, with the ET workforce in the state expected to nearly double by 2024. As global demand and competition from new entrants grows, what needs to be done to keep California on the leading edge?
In this webinar, we'll present the findings from AEE's "Electrifying California: Economic Potential of Growing Electric Transportation" report on the scale and breadth of companies now doing business in the state, and the characteristics of the workforce needed to meet growing demand.
California policymakers leading the transition to electrified transportation will offer their perspectives on what is required to achieve the state's ambitious zero-carbon mobility goals.
Fill out the form to register.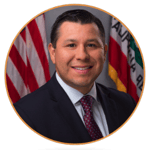 Eduardo Garcia
Assembly Member
California Legislature
David Hochschild
Chair
California Energy Commission
Renee Samson
Director of Regulatory Affairs
Freewire
Claire Alford
Policy Associate
AEE
Ryan Gallentine
Policy Director
AEE